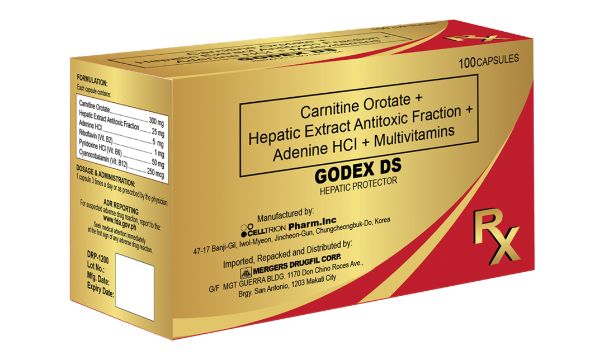 GODEX DS is a chocolate colored capsule with dark brown cap and light brown body filled with yellowish powder.
Benefits/Uses: Used for the treatment of fatty liver: Non-Alcoholic Fatty Liver Disease (NAFLD) and Alcoholic Fatty Liver Disease (AFLD), Steatohepatitis: Non Alcoholic Steatohepatitis (NASH) and Alcoholic Steatohepatitis (ASH), acute and chronic viral hepatitis, liver cirrhosis, drug-induced liver injury, alcoholic intoxication and general intoxication.
Contraindications:
Patients with history of hypersensitivity to any components of the drug.
Hepatic Extract Antitoxic Fraction
Cyanocobalamin (Vit. B12)
Take 1 Capsule 3 Times A Day Or As Prescribed By The Physician.